A mysterious portrait
In 1892, Fritz purchased a portrait at an auction in Bergamo, northern Italy. The painting was auctioned there as a portrait of Guidobaldo II della Rovere (1514-1574), a 16th-century Duke of Urbino. Fritz did not believe this identification and decided to start his own investigation.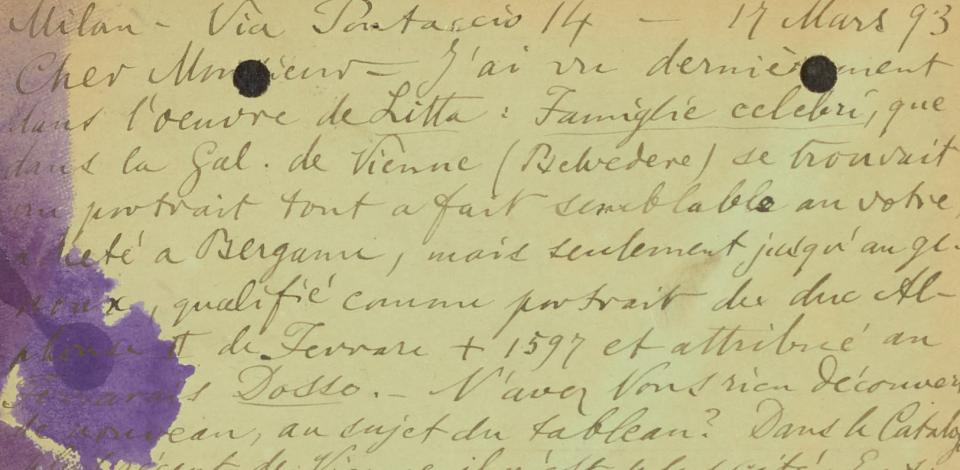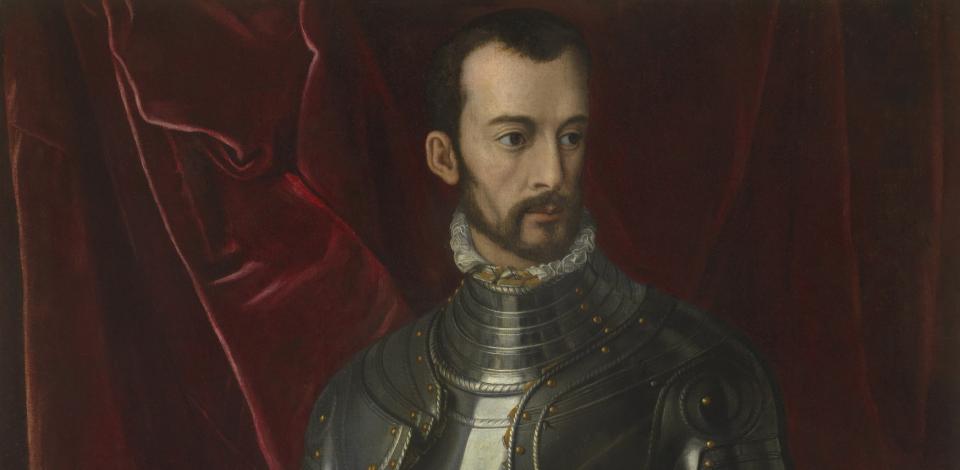 The first person he contacted about this work after his purchase was the well-known Italian art historian Gustavo Frizzoni. Fritz's letters to Frizzoni did not survive, but the replies Frizzoni sent did. This shows that Frizzoni initially thought the portrait depicted Alfonso II d'Este (1533-1597), Duke of Ferrara. Although even this attribution turned out to be false in the end, Frizzoni was clearly impressed by the work. In a later letter, he even tried to buy it from Fritz.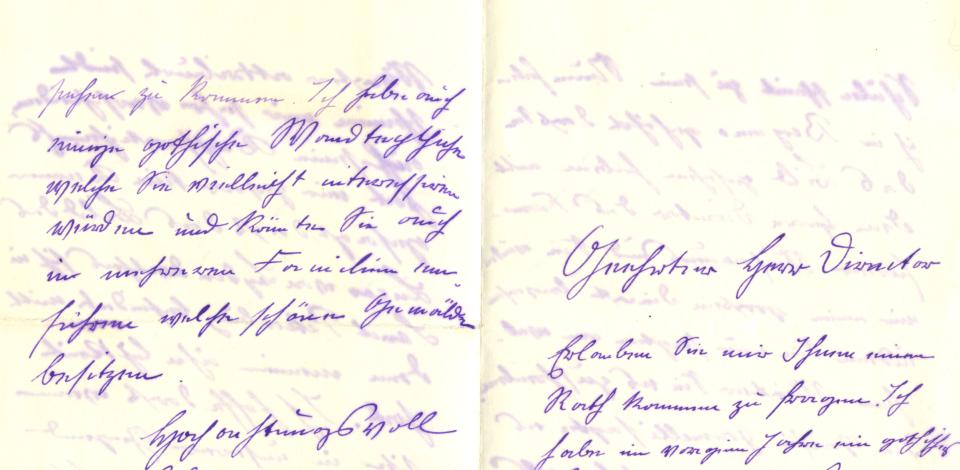 Even before he received a response from Frizzoni, Fritz sent a letter to another important contact, the art historian Wilhelm Bode, at that time director of the Berlin Gemäldegalerie. Bode did not dare identify the person portrayed. He referred Fritz to a man who might be able to help him further, the Swiss Carl Justi, professor of art history at the University of Bonn. Justi had just published an article on another portrait of Guidobaldo II. He knew immediately who was depicted in the portrait, as he was familiar with a copy of the portrait in Vienna. Fritz now knew with certainty who was in his painting: Francesco I de'Medici (1541-1587) the second Grand Duke of Tuscany.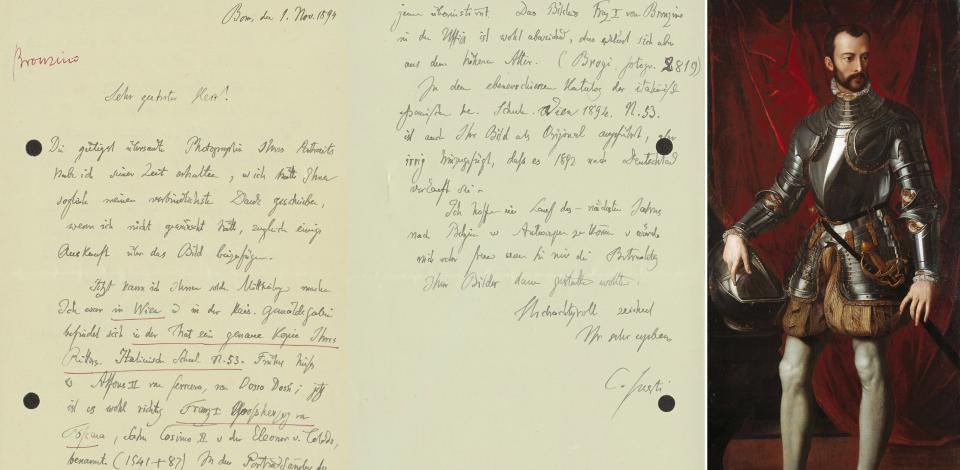 Photos and questions
Fritz's research into the Francesco portrait shows just how wide his network was in 1893 and 1894. He had only been collecting paintings for a few years at the time, but already had contacts with some of the leading experts in the art history field.
Fritz used his network not only to research what he had already bought, but also to gather information on works he was considering buying. He regularly sent photos of art that had been offered to him to experts in order to ascertain whether something was worth purchasing. As such, Fritz tried to ensure that he only bought works of very high quality.
Only a few of the letters Fritz wrote to his international contacts were preserved in the Museum Mayer van den Bergh. After all, he sent these letters to other people. Fortunately, Fritz's contacts also preserved his letters and some of them ended up in other archives. This allows us to still read the letters that Fritz sent, while the replies to them are often kept in the museum archives. Thus, thanks to the collaboration with external archives, we gain a much fuller picture of the correspondences Fritz maintained.
A complete overview
Museum Mayer van den Bergh entered into a collaboration with eight institutions, both within Belgium and abroad, that hold letters from or to Fritz and Henriette. The documents are made available in the digitised archives. Fritz's letters to Bode and Justi can be accessed here, and his correspondence with Belgian art expert Henri Hymans, Swiss collector Heinrich Angst, and Dutch goldsmith Jan Brom is also included in the digital archives, along with several other contacts. Fritz was clearly a highly international collector, and both he and Henriette maintained a wide network. Their correspondence tells us a great deal about how the museum collection was created. Moreover, the collaboration with other archives means that we can now map out this correspondence much more comprehensively.
The Ghent University Library holds ten letters from Fritz and Henriette Mayer van den Bergh to art historian and university professor Georges Hulin de Loo.
The archives and library of the Royal Museum of Fine Arts Antwerp hold 28 letters from Fritz Mayer van den Berg to art historian Henri Hymans.
The General State Archives in Antwerp-Beveren holds thirteen letters from the art dealer Eugène Van Herck to Fritz and Henriette Mayer van den Bergh.
The archives of the Royal Museums of Art and History Brussels holds five letters from Fritz Mayer van den Bergh to Joseph Destrée and Gustave Vermeersch, and three related documents.
The Zentralarchiv of the Staatliche Museen zu Berlin holds six letters from Fritz Mayer van den Bergh to museum director Wilhelm Bode.
The Universitäts- und Landesbibliothek Bonn holds two letters from Fritz Mayer van den Bergh to the art historian Carl Justi.
The Zentralbibliothek Zurich holds thirteen letters from Fritz Mayer van den Bergh to the Swiss collector Heinrich Angst, the first director of the Landesmuseum Zurich.
The Catholic Documentation Centre in Nijmegen holds eleven letters from Fritz Mayer van den Bergh and two letters from Henriette van den Bergh to the Utrecht goldsmith Jan Brom.